Walking Belts
Holding a dog's lead can be tricky if you have shopping bags to carry, are walking a number of dogs or are pushing a child's pushchairr etc. so why not put your dog safely on a walking belt?
These belts are extremely popular with husky, malamute and samoyed owners as these dogs are not so reliable when doing recall so a walking belt ensures your dog is safe. Cani-X runners also use these belts.
The Adanac Sleds belts comes with leg straps as an optional extra ideal for competitive runners.
The dog is attached using the brass snaps, the rings on the side of the belt are designed for leg straps (optional extra for Cani-X or Ski-joring) and not designed to take the weight of a dog. You can also use them to attach a holder of poo bags or a treat pouch.
We offer two styles of walking or running belts, the Adanac Professional belt, (above) made from padded foam for maximum comfort if your dog pulls against you, and the Outward Hound Hands Free Leash (below).
The Hands-Free leash and waist strap gives dog owners a new, low-profile, lightweight waist-pack to store valuable and functional items. The neoprene belt features multiple pockets creating a comfortable option for hands-free exercise with your dogs. The attached leash adjusts up to 6′ (3m).
Features
No-slip, elastic waistband contours to body
Two pockets with reverse coil zippers for carrying essentials
Attached mesh pouch collapses and stores inside its own pocket. ideal for carrying a water bottle or treats
Dual D-rings for right side and left-side leash attachment
Dual clips on leash

We also offer belts to carry your stuff whilst out with teh dog, the tennis ball, treats, mobile, keys etc. The Avalanche belt is the perfect companion for any dog walk.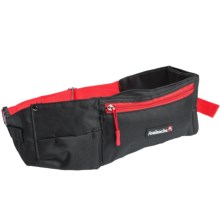 Show Filters