About Xtra Dog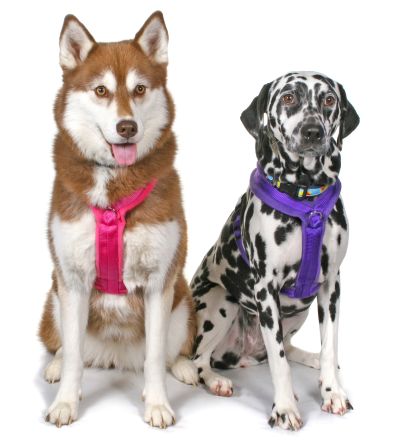 Welcome to Xtra Dog. We are a small independent pet products company run by dog people for dogs and our motto is "Putting Dogs First". Our best selling product is the Xtra Dog Fleece Walking harness made by us, in a variety of great colours and in numerous sizes so we should be able to offer a size to fit most dogs. Should your dog not fit one of our standard sizes we are happy to make one to measure for your dog, as long as they are not younger than 18 months old.
Xtra Dog also offer an very exciting range of American products for dogs. Many of our products are not readily found in petshops or on-line in the UK and we offer products including the award winning Spiffy Dog collars, pop-out dog bowls and travel cups from Dexas, veterinary recommended calming coats from the American Kennel Club, dog colling coats from Woofmasta. In 2016 our head trainer was seen on TV during Crufts with the Nose It Ball, a fantastic food ball that your dog has to role so that trets fall out.
During the summer team Xtra Dog is out and about and can be found at numerous country shows and dog events including some of the big county shows like The Royal Bath and West Show, The Royal Cornwall Show, The Kent County Show and The New Forest Show. We are also at dog events like Dog Fest, All About Dogs and Paws in the Park. At these events we have expert harness fitters and dog trainers on stand to help asswer any of your questions.
Xtra Dog also has a training division and we have our own in-house trainer who is also a Tellington TTouch practitioner. We offer one to one dog / behaviour advise in the East Midlands and run full day Tellington TTouch workshops around the UK.More information can be found at www.xtradog.training.
Xtra Dog supports the work of modern dog training organisations particularly the Association of Pet Dog Trainers with whom, our trainer studied, we operates under a strict code of conduct that can be read below and we will never sell any aversive or punitive training equipment.
Xtra Dog Code of Conduct
Our mission is to treat every dog as a member of the family and to have a mutual respect for dogs and clients. Xtra Dog staff are continually expanding their knowledge and skills in order to remain a valuable resource to our clients. We endeavour to provide the most innovative pet care possible through the products and service that we offer.
​As an ethical pet business we operate under a strict code of conduct, please feel free to read our code below relating to equipment and training methods.
All Xtra Dog staff and management pledge to care for the dogs in their charge fairly, showing kindness and respecting the dignity of the animal, in keeping with the principles of positive animal care.
All staff strive to maintain up to date knowledge of the management and care of dogs. Those members of the team involved with dog training will keep up to date with the latest methods and theories. This may involve attending workshops, lectures, courses and regular reading.
Xtra Dog pledge is to provides the highest professional and ethical standards in any business practices and in the approach to canine care, including, but not exclusively; handling, training and supply of equipment.
​Xtra Dog is transparent about the dog care and management techniques employed by themselves and are very happy to discuss this with clients.
Xtra Dog management and staff operate a "no-harm" policy and believe in all aspects of positive and holistic management and training of dogs and other animals.
No advice offered by Xtra Dog staff or management should cause any pain or stress to dogs, it should utilise principles of how dogs learn, to help them become happy and valued members of the owner's household.
Equipment sold by Xtra Dog should adhere to the principles of kindness and members of the Xtra Dog sales team should have the knowledge to offer clients advice on the use of said equipment. It is noted that some very well designed equipment, when used incorrectly, can cause pain and distress to dogs and can negatively effect the outcome of its use. (Please see notes on equipment).
​All Xtr Dog trainers will promote positive training and recommend positive reinforcement methods including but not restricted to; lure and reward, clicker, BAT and Tellington TTouch. Staff will use only those methods that they are knowledgeable of or are qualified to practice.
Xtra Dog has a qualified Tellington TTouch practitioner on staff who can offer advice and guidance on this practice.
​
Equipment
​Equipment, including check chains, choke chains, slip leads, non-static harnesses, pinch / prong collars, electric shock collars / e-collars and high frequency sound devices will not be sold at The World Of Pets, nor recommended by the staff. We will not promote, use or sell punitive or aversive training equipment. Although there is no definitive list due to the constant development of equipment and training methods the products listed below are examples of items that will never be sold by Xtra Dog.
Pet Correctors – emits a hiss of cold air, this device can heighten anxiety and cause other behavioural issues;
Dog Stop – emits a high pitched sound;
Remote controlled spray collars;
Automatic triggered spray collars;
Anti-bark collars.
The products listed below do no not address the cause of a dog's problem as a dog is unable to associate the 'crime' with the punishment in the way humans do. The result of this is that these items are known to create behavioural issues rather than prevent them;
Training discs
Liquid Sprays
Loud noises, e.g. rattling cans, bottles chains, keys for the reasons above.
Throwing items to the ground i.e. stocks, chains
Strong smelling substances, i.e. smelling salts, bite back etc.
Training
Training methods that will not be promoted by Xtra Dog include, but are not restricted to;
​Pinching ears, feet, toes or other parts of the dog's body;
Hitting or kicking dogs;
Biting of dogs;
Alpha rolling dogs;
Manhandling of dogs that causes pain or discomfort;
Hard jerks on collar or lead.
​