Scooters for Dogs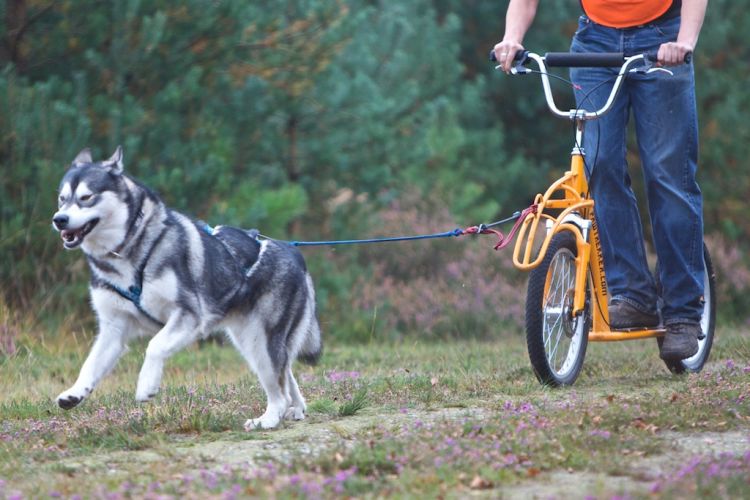 Do you aspire to being a musher and but know that sledding is out of the question as you only see snow every two years? Do your dogs love to pull and run but you struggle to find an outlet to satisfy them and you? Well, look no further as help is at hand in the form of a dog scooter.
These scooters are specially design for dogs to run, but you don't need a team of large huskies to enjoy scootering; anything from a springer spaniel upwards can enjoy the fun.
At Xtra Dog we are delighted to be distributing the Pawtrekker range of dog scooters, these scooters are sold all over the world and are as popular with mushers in the Rocky Mountains looking for a fun way to exercise their dogs when the snow has gone as they are here in the UK.
Training your dog to use a dog scooter is easy, even when they have never pulled before. Once you have fitted an x-back or multi-sport harness, it will only take a little bit of patience (and maybe a handful of treats) to convince your dog that pulling a scooter is fun!
Dog scooters are also quite portable and can be easily transported in the back of your car or on a bike rack. This means that you can effortlessly transport them to any open space and enjoy dog scootering in a variety of locations with your dog. Since dog scooters have tyres suitable for off-road terrain, you don't even have to stay on the paved paths!
The Pawtrekker dog scooter is offered in a range of 3 scooters: the standard model with front and rear disc brakes; a full suspension model, and the all-new all-terrain, Rufftrax, a large-wheel version, plus a scooter sidewalker system to help dogs that struggle to keep up (fits the front and rear disk brake model).