Bowls and Bottles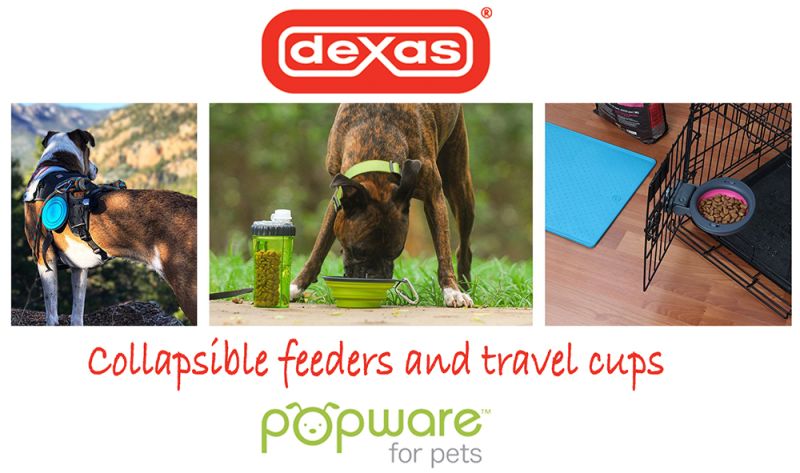 All dogs need to eat and drink ... We specialise in dog bowls and feeders that will benefit your dog. Vets tell us that raised pet bowls benefit digestion and the Dexas raised pet bowls are one of the best selling ranges of raised dog bowls on the market. We also sell slow feeders, these gobble bowls are very useful for dogs that like to gulp their food. Dogs who eat fast are at risk from bloat and using a slow-feeder, a gobble or gulp bowl forces dogs to eat much more slowly. Many dog trainers tell you that it is important to enrich a dog's life by making them work for their food and the maze feeders from All For Paws and Animal Instincts can make every mealtime into a very challenging game.
We like to travel with our dogs and Dexas are famous for their travel range of travel cup and dog drinking bottles. The silicone pop-out travel cups are offered in two sizes and with a carabiner plus their unique travel cup with a bottle holder that can attach anything from a small water bowl to a 2L Coke bottle. These collapsible travel bowls are offered in a choice of colour.
The Snack-Duo travel water bowl and travel feeder is unique, it has a chamber for food and a chamber for water, perfect for dogs on the go. There are many dog travel bottles on the market nothing like the Snack Duo, it also comes with a handy travel cup attached to it.
The award-winning Road Refresher was featured on TV's Dragons Den and is a travel bowl with a difference. It is a travel bowl with a removable anti-slobber lid that has a floating plate which will feed enough water through to your dog to drink from the reservoir beneath. Without a big sloshing bowl of water, these bowls are idea as a drinking bowl for the home and a dog bowl for the car. High profile customers of this product include former Blue Peter presenter; Peter Purves and for US Presiden Barak Obama.
Finally, we are delighted to offer a travel water bottle with a tray attached. All you need to do to use it is unscrew the bottle lid, stand it upside down in the tray and squeeze the bottle gently. It also comes with a belt clip.
All of our bowls are dishwasher safe.

Regular Price: £64.99

Special Price £26.00
Regular Price: £59.99

Special Price £24.00

Regular Price: £74.99

Special Price £30.00