Anxiety Coats
DOG CALMING COATS
The Most Effective Solution To Dog Anxiety And Nervousness
••• Veterinary Approved •••
Money-Back Guarantee (On the KarmaWrap only) if it does not help your dog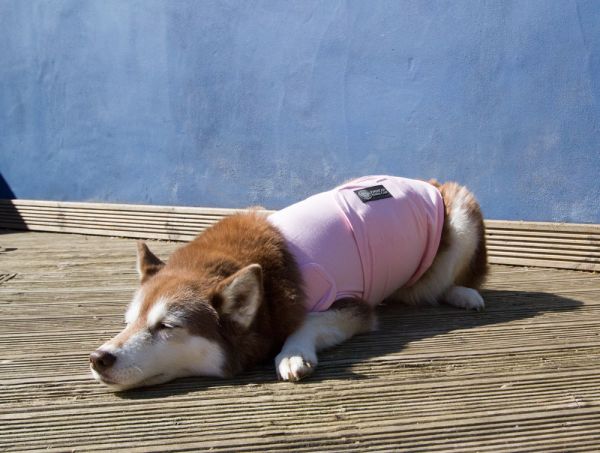 Many dogs suffer from fear and anxiety and the Calming Wraps can help with the following:


• Noise Sensitivity, thunderstorms, fireworks, lawn mowers, traffic, guns etc.
• Separation Anxiety
• Travel Sickness
• Pulling on the lead
• Crate Training
• Excessive Barking
• At Training class and the vet
• Reactivity
• ...And much more ...
---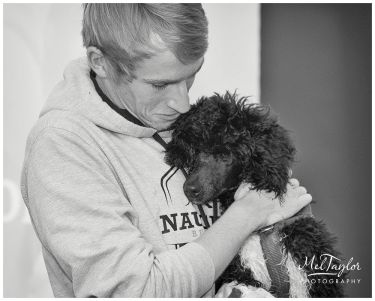 I use coats quite extensively in the work I do as a veterinarian, trainer and behaviourist, especially as a lot of my work involves working with sports and working dogs. I primarily use coats as a clear cue to the dog to return to and maintain calmness (low arousal levels). This can be very useful in working dogs where the coats also act as a cue that work has ended, therefore allowing them to switch off and settle. This can be very simply achieved by placing a coat on them when and only when the owner/trainer/behaviourist knows they are going to be calm to begin with, for example after a walk. This then develops an association and predictability with wearing the coat and lower arousal (calmness). In dogs that struggle to be calm, I actively develop this while wearing the coat by rewarding choices more associated with calmness, for example settling, and utilise a method of rewarding that in itself is calming, for example slowly feeding to the mouth. I am by far no expert in Tellington TTouch and, therefore, have no idea whether wraps work better than coats; however, as long as both are appropriately introduced and the owner/trainer/behaviourist takes an active approach in associating wearing them with a calm, positive emotional response as already discussed, these coats can be an incredibly valuable tool in working with dogs that are fearful, easily over aroused or struggle to settle in certain environments.
Dr Tom Mitchell BVSc BSc MRCVS, BEHAVET and absoluteDOGS
---
"45 Day Money Back Guarantee exclusively on the KarmaWrap"
There is no 100% guarantee that any product will be the solution to your dog's issues, but we want to make sure that you can in effect buy on approval. If for any reason the KarmaWrap is not the right solution for you, within 45 days, complete a returns form at www.xtra.dog/returns and return us your shirt along with a proof of purchase and we will refund you and donate your shirt to a charity or rescue. This only applies to shirts purchased from Xtra Dog and Xtra Dog Training.
KarmaWrap SIZING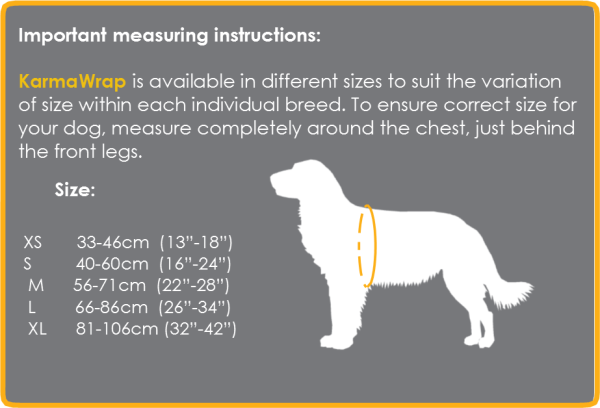 AKC Calming Coat SIZING
X-small Girth 33cm-46 cm - Weight 4.5kg - 8kg
Small Girth 41cm - 58 cm - Weight 7kg - 11kg
Medium Girth 46cm - 66cm - Weight 9kg - 22.5kg
Large Girth 61cm - 81cm - Weight 18kg - 32kg
x-large Girth 76cm - 102cm Weight 27kg - 45k
Calming Coats utilises the principles developed by Tellington TTouch Training to help give the dog better body awareness and the swaddling effect provided the dog with calm. Tellington TTouch Instructor Kathy Cascade explains more:
"To understand how this works, let's take a very oversimplified look at the sensorimotor system. Our bodies take in information from our senses, including the well known senses of sight, sound, smell, taste and touch (tactile system). We also have another sensory system that provides information about the position of our body parts which is known as the proprioceptive system The proprioceptive system is triggered by movement. Information from the tactile and proprioceptive system is sent along nerves to the spinal cord and on to a part of the brain that registers the information, which is known as the somatosensory cortex. What is interesting about this area is that some parts of the body have a greater representation than others. For instance, the face and mouth have a much greater number of sensory nerve endings, and a larger area of the somatosensory cortex is devoted to those body parts. For people, the hand and fingers are also more prominent, and it is no surprise that we are way better at using our fingers than our toes! Once the sensory information is processed, the brain then sends signals back to the muscles for postural control, and movement. This constant two way exchange of information is what allows both people and animals to make coordinated movements, and perform complex physical tasks. By using a body wrap, we simply intensify the sensory information going to the brain from the parts of the body the wrap contacts (through the touch system) and the proprioceptive system when the animal moves while wearing the wrap. The response to this enhanced sensory information is often improved balance, coordination, and/or movement."
The American Kennel Club Calming Coat is the only anxiety shirt on the market to be officially endorses by a major canine organisation, the American Kennel Club as it is used by show dog competitors at championship level throughout the US, along with Agility dogs, flyball dogs, working dogs and family pets. The shirt is also used and recommended by New York vet, Jeff Lavine DVM ...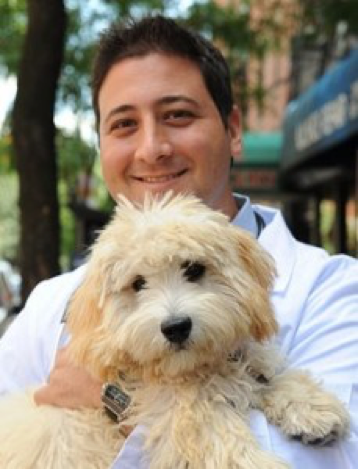 "The AKC Calming Coat is a wonderful, safe and drug free, behavior modification tool that works great with both dogs and cats. Behavior problems such as fear, anxiety and shyness are the root of a lot of unwanted behaviors, such as thunderstorm anxiety, noise phobias, travel anxiety, nervousness, shaking, barking, hyperactivity and the list goes on. It's really been proven to me through the people who use the AKC Calming Coat as well as on my own dog that the hugging and constant pressure of the AKC Calming Coat significantly decreases the anxiety and fear and the unwanted the behaviors that go along with it.
It's almost similar to swaddling a new born baby, and receiving that comforting hug, it's gentle and it's relaxing. My dog growing up in NYC, unfortunately does have a lot of anxiety with all the hustle and bustle, especially with the noises in the city streets and the vacuuming in the hallways.
I got my hands on the AKC Calming Coat and I couldn't be happier. One of the first things I noticed is that it comes in four easy to choose sizes. This came as a welcome relief as my 30 lb labradoodle is between sizes. A Medium fit her perfectly. It was very easy to fit and very forgiving. Additionally, it's very easy to put on. It's a simple wrap and a nice snug, loving hug! Again, compared to a lot of other products, this is just natural.
The second I put it on my dog, I was almost immediately able feel her calm down and relax. It's perfect for vet visits and for travel. Veterinarians have been using this technique for years with a towel. I'm extremely satisfied with the AKC Calming Coat and it is a safe, effective and comfortable product that will help with behavioural modification that is drug free."
Dr. Jeff Lavine DVM, VetCierge, www.vetciergenyc.com