Go Dog
Go Dog toys are fun tough dog dogs developed in Colorado. If dogs know how to play and have fun then the Go Dog plus toy is their perfect companion.
The Go Dog toys incorporate Chew Guard Technolog, a special manufacturing process that adds a super tough and durable lining to soft plush toys and beds.
Worldwise, the American company behind Go Dog, combine this high-tech lining with reinforced seams to make the toys withstand rough play and tough treatment.
As well as being remarkably tough and functional, these toys are also eye-catching as they come in a range of cute animal shapes, including flying pig, elephant, kangaroo, donkey, fat rooster and skinny rooster."
Lauren Langman, breeder and head dog training instructor at Devon Dogs, has tried the range of toys and given it the thumbs up.
"These are some of the most fun toys I have seen," says Lauren. "As a breeder my dogs know how to play rough and the Go Dog toys can stand the test of play and training. I would recommend them if you are looking for a tough toy that will last."
Go Dog Toys Visit New York!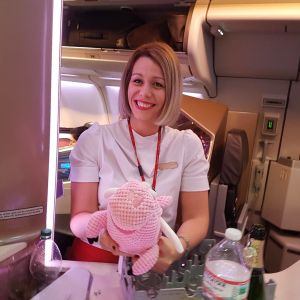 On a recent trip to New York some GoDog Toys decided to have some fun. It all started on the Virgin Atlantic Flight when a flying pig got loose in the cabin and ended up flying all over the plane. There were concerns that he might fly into the cockpit, but thanks to the bravery of cabin attendant Mary, who caught the pig in Upper Class heading for a bottle of Champagne, the crisis was averted.
We then heard about a GoDog sheep who got loose in New York City, and was spotted at the top of the Rock, She was next seen by the Flat Iron Building before finally getting caught at the Statue of Liberty, posing as the statue.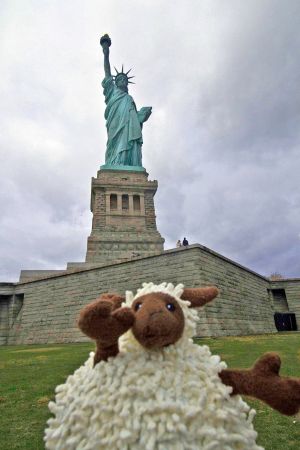 GoDog make some of the most fun dog toys in the world, all designed in Colorado, with lots of super cute animals to choose from, all the soft toys have Chew Guard TechnologyTM. Whilst we make no claim that these toys are indestructible they are tougher than the average dog toy.
Go Dog and The One World Play Project
The One World Play Project created an ultra-durable ball to bring the transformative power of play to the hundreds of millions of youth who don't even have something as simple as a ball.
In 2010, One World Futbol Project was founded with the help of their founding Sponsor Chevrolet, they have distributed over 1 million balls to communities around the world.
The One World Futbol was just the beginning. The impact of their efforts showed them that the need for play was something much greater.
The One World Play Project have licensed the technology to Go Dog to create a range of foam dog toys, under the Rhino Play brand.