American Kennel Club
The American Kennel Club (AKC) is a registry of purebred dog pedigrees in the United States. Beyond maintaining its pedigree registry, this kennel club also promotes and sanctions events for purebred dogs, including the Westminster Kennel Club Dog Show, an annual event which predates the official forming of the AKC, the National Dog Show, and the AKC/Eukanuba National Championship.
The AKC work with a number of US based dog product manufacturers to promote high-end dog products. Xtra Dog is delighted to be able to offer the AKC Calming Coat here in the UK.
---
The Most Effective Solution To Dog Anxiety And Nervousness
••• Veterinary Approved •••
50 Day Money-Back Guarantee if it does not help your dog. Returned shirts are donated to rescue.
---
AKC Calming Coat can help with the following:
• Noise Sensitivity, thunderstorms, fireworks, lawn mowers, traffic, guns etc.
• Separation Anxiety
• Travel Sickness
• Pulling on the lead
• Crate Training
• Excessive barking
• At Training class and the vet
• Reactivity
• And much more ...
---
Vet approved ...
Used and Recommended by Vet Behaviourist Dr. Tom Michell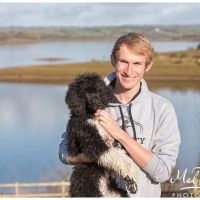 "I use coats quite extensively in the work I do as a veterinarian, trainer and behaviourist, especially as a lot of my work involves working with sports and working dogs. I primarily use coats as a clear cue to the dog to return to and maintain calmness (low arousal levels). This can be very useful in working dogs where the coats also act as a cue that work has ended, therefore allowing them to switch off and settle. This can be very simply achieved by placing a coat on them when and only when the owner/trainer/behaviourist knows they are going to be calm to begin with, for example after a walk. This then develops an association and predictability with wearing the coat and lower arousal (calmness). In dogs that struggle to be calm, I actively develop this while wearing the coat by rewarding choices more associated with calmness, for example settling, and utilise a method of rewarding that in itself is calming, for example slowly feeding to the mouth. I am by far no expert in Tellington TTouch and, therefore, have no idea whether wraps work better than coats; however, as long as both are appropriately introduced and the owner/trainer/behaviourist takes an active approach in associating wearing them with a calm, positive emotional response as already discussed, these coats can be an incredibly valuable tool in working with dogs that are fearful, easily overaroused or struggle to settle in certain environments."
Dr Tom Mitchell BVSc BSc MRCVS, BEHAVET and absoluteDOGS
This shirt is used and recommended by New York vet, Jeff Lavine DVM ...
he AKC Calming Coat is a wonderful, safe and drug free, behavior modification tool that works great with both dogs and cats. Behaviour problems such as fear, anxiety and shyness are the root of a lot of unwanted behaviors, such as thunderstorm anxiety, noise phobias, travel anxiety, nervousness, shaking, barking, hyperactivity and the list goes on. It's really been proven to me through the people who use the AKC Calming Coat as well as on my own dog that the hugging and constant pressure of the AKC Calming Coat significantly decreases the anxiety and fear and the unwanted the behaviors that go along with it.
It's almost similar to swaddling a new born baby, and receiving that comforting hug, it's gentle and it's relaxing. My dog growing up in NYC, unfortunately does have a lot of anxiety with all the hustle and bustle, especially with the noises in the city streets and the vacuuming in the hallways.
I got my hands on the AKC Calming Coat and I couldn't be happier. One of the first things I noticed is that it comes in four easy to choose sizes. This came as a welcome relief as my 30 lb labradoodle is between sizes. A Medium fit her perfectly. It was very easy to fit and very forgiving. Additionally, it's very easy to put on. It's a simple wrap and a nice snug, loving hug! Again, compared to a lot of other products, this is just natural.
The second I put it on my dog, I was almost immediately able feel her calm down and relax. It's perfect for vet visits and for travel. Veterinarians have been using this technique for years with a towel. I'm extremely satisfied with the AKC Calming Coat and it is a safe, effective and comfortable product that will help with behavioural modification that is drug free."
Dr. Jeff Lavine DVM, VetCierge, www.vetciergenyc.com - watch the video