Fleece and Foam Walking harnesses
Car harnesses Working Harnesses
These dog harnesses are NOT designed as car harnesses or for sledding, scootering, cani-X, tracking or other dog activities that involve your dog pulling activities. They are designed as a balancing walking harness. Please click on the links above for our working dog harnesses and our car harnesses tested to human safety standard.
Why would you use dog harnesses?
It is a common myth that attaching a dog on its collar is the best way to walk him or her. A collar whilst, it can
look very nice on the dog and is ideal for hanging its ID tag can also put pressure on the neck and wind pipe of the dog and can encourage him or her to pull on the lead. By walking the dog on a harness it takes that pressure off the neck and can help stop dogs pulling and cut down on lead frustration.
As any dog owner will tell you, many dogs pull and a harness takes pressure off the dog's neck as the connection to the dog's harness is closer to the dog's centre of gravity rather than having the dog only attached at the collar. Many dog trainers and competitors, as well as pet owners, use and recommend the use of harnesses.
Certain dogs are more receptive to being walked with a two-point contact (the lead attached at one end to the collar, or front of the harness, and the other end on the top of the harness). This method, developed by Tellington TTouch*, is ideal for a dog that naturally pulls and eliminates any perceived need for equipment like choke chains or pinch collars. Xtra Dog actively condemns the use of these so-called punitive methods of dog management and training.
Our harnesses are designed by Tellington TTouch Instructor, Marie Miller are designed by leading dog influenced by Mel Fishback Riley's harness designs of the 1950s. Mel was infact the first person to use fleece regularly in the manufacture of dog harnesses. We have also developed in conjunction with Adanac Sleds a range of water repelling version of this harnesses, ideal for dogs who like to swim. All of our walking harnesses have a front ring as well as a top ring so that you can help stop pulling using a double ended lead by putting your dog into correct balance. Our front rings have been encorporated into the design of the harness and sit in the correct place, on the point of the breastbone, so when attached to the dog at the front and at the top can influence the dog's posture and help stop the dog from pulling. Other manufacturers of these style of harness have added front rings to previous designs, but due to the shape of the harness the front ring sits too low, often between the dogs' legs and do not have the same benefits that our harnesses do.
Marie Miller has put this short video together explaining how a harness can help a dog a dog from pulling when combined with Tellington TTouch ground work technique.
These harnesses complement our fleece double ended leads (Click here to see our fleece double-ended leads).
Our walking harness is a new design taking into consideration the shortcomings of other harnesses and incorporating several new improvements including the addition of an extra "0" ring on the front of the harness and a choice of 10 standard fit sizes. We also use "O" rings rather than "D" rings so that there is less wear on the webbing of the harness prolonging the life of the harness. We can also make a custom fit harness for any dog that does not fit into a standard fit. The extra front ring allows the handler to attach a double-ended lead to the top and front of the harness, putting the dog in perfect balance and thus eliminating the dog's need to pull. Click here for more information on this method of dog walking.
This harness is currently offered in 11 standard fit sizes with a choice of colours.
The girth strap is held completely flat with the use of small pieces of webbing; this also holds the fleece in the correct position. This innovative design prevents the adjusters slipping once the harness has been correctly fitted on the dog. Many harnesses on the market today are made with narrow fabrics, which can be most uncomfortable for the dogs to wear; our fleece harnesses are made with a top quality broad fleece with matching webbing firmly stitched on top.
This broad fleece makes the harness straps very wide and comfortable, preventing sore areas and distributing the dog's weight over a wider area. All parts of the harness are covered in top quality fleece, giving padding throughout for the comfort of your dog. It is essential for the dog's comfort that any harness does not 'give' when being worn as it could cause the harness to rub against the dog's body – this has been overcome with this design. These harnesses can be machine washed at a low temperature. We advise against tumble drying as this can cause the fabric to 'pill' or shrink. Our fleece range of walking harnesses are British made in Leeds but a talented team of sewers.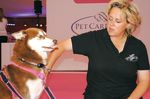 "... I love these harnesses as they give me more choices when working with client's dogs that are sensitive or suffering from medical conditions that may prevent me from using nylon harnesses. The ring on the front of the harness enables me to influence the posture of the dog by teaching the dog how to move his centre of gravity back into balancein keeping with the TTouch ethos. Having two points of contact (ie.a back and front ring) is key to teaching dogs to move in balance by their handlers side and many owners are stunned at the instant effect two points of contact has on their dogs posture and behaviour when on the lead."
Sarah Fisher - TV Personality, Writer, Dog Trainer and Tellington TTouch instructor
Our Fleece Harnesses Put to the Test by Dogs Today's Liz Dixon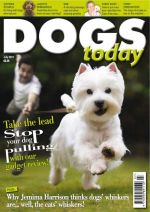 At the end of their tether!Ferris is now 16 weeks old! He is a lovely puppy – really eager to please, easy going and obedient (most of the time!!) apart from when we go out and he is on the lead. He walks beautifully on it (and indeed off it) in the garden – trotting along by my side quite happily. He is even pretty good outside in the lane. BUT, as soon as he sees another person or dog, or in fact anything remotely interesting, he starts to pull towards it and despite my best efforts – treats, changing direction, squeaky toy etc. I cannot seem to overcome the problem. I have recently been advised to continue to train him in the garden and not go out into the real world until he is 'bomb proof' however, I don't see how he can learn to not do something unless he is encountering it. I seem to have experienced a whole raft of different training suggestions in the last few weeks and nothing seems to work. My only other experience of this 'problem' was with my last GSD – 14 years ago – and I confess that the favoured training method of checking the dog with a sharp tug did actually work!! Clearly this method is now deemed unreasonable but I am at a loss to know what to do for the best. Liz Dixon
... and What Happended?...

Pulling on the lead - a Dog's Today, Think Tank casebook -Here is a special report from Liz Dixon, Commercial Director of Dogs Today...

"Office dog Ferris is a young
German Shepherd dog, just over a year old - a happy, healthy boy with a fantastic temperament and a lovely disposition.He is my second GSD – I had a boy before – Jack – but this one is different in so many ways not least his desire to jump into every lake and river he encounters! A joy to walk off the lead, his exuberance and sheer delight at all he encounters is in turns entertaining and hilarious but the minute he goes back, or even starts on the lead, the trouble begins!He leans into the lead like a plough horse – his objective seemingly to pull me as quickly as possible to the nearest field, tree, friend or foe and, at times, to try to dislocate my shoulder or his neck!It had got to the point where I dreaded taking him anywhere on a lead and had restricted his walks to the fields opposite my house – boring for both of us, but essential for the well being of my back.Working for Dogs Today Magazine has afforded me the opportunity to read about and talk to various experts about lead training. To say I had been blinded by science was probably an understatement and I was getting desperate for a cure. Christine, in the office, suggested we offered Ferris's behaviour as a challenge with a view to seeing if we could find a cure and it was while talking about this to Alex Wilson at Xtra Dog, he offered to be the first to try to cure my hauling hound."

"Xtra Dog specialise in and promote Tellington Touch, including Tellington TTouch ground work which creates balance and harmony in a dog's posture ensuring that it walks comfortably alongside its owner rather than pulling.Alex first demonstrated the concept with his own dog – Arapahoe (a beautiful Siberian Husky) and then it was Ferris's turn. We had chosen to meet at Richmond Park, so a more distracting place could not have been found – we were contending with deer and their seemingly very entrancing droppings, rabbits and their equally diverting contribution, other dogs, walkers, bikers and a whole myriad of smells. Ferris was in seventh heaven and he was off like a rocket. We gave Alex a very clear demonstration of how well Ferris pulled – he would make a great sled dog!The next thing was to fit Ferris into one of Xtra Dog's special harnesses. I had sent over his measurements prior to meeting Alex and so, we were pretty much spot on first time. These harnesses have a ring on the breastbone and also in the middle of the shoulders, which allows for the double-ended lead to be attached. This lead, also, is special as its connectors are different sizes – the front (chest) one being smaller so as not to irritate the dog.Once fitted, we set off with me holding the lead, hands up and apart with my right hand slightly in front of Ferris's head. The idea is to pull gently and equally and then, as the dog gets into the correct position, gently 'melt away' the contact. At first, this was a constant interaction – pull and release (or 'melt away'), pull and release – but gradually, Ferris started to slow down and respond to the gentle pressure, gradually walking to heel without any intervention from me at all!We carried out some simple exercises designed to make the dog concentrate and slow down, and despite the many distractions, Ferris responded well to these tasks and did very well. The first one involved creating a 'labyrinth' on the ground through which we had to walk slowly, pausing at each turn for Ferris to sit and the second one was a series of lines over which we had to step which meant that he had to be careful about where he was putting his feet. I have to say that Alex's ingenuity was impressive – he used long and narrow plastic pipes to designate both the maze and the ladder, which worked very well!Lastly, Alex demonstrated a calming and attention grabbing method of stroking the lead upwards and away from the dog, pulling it towards you and ensuring any loss of concentration is quickly regained.I was convinced! "
"Ferris was actually walking to heel and I was actually enjoying the experience! Hurrah!But, I couldn't help worry, what would happen the next day when I took him outfor his normal constitution?Well, I am pleased to report, I needn't have worried… If anything, he was even better in his own neighbourhood, and didn't pull at all. He now walks beautifully on the harness and lead – I even got to try it with one hand and it worked!I know that I'll have to keep up the 'training' and exercises, as I cannot expect a year's bad habits to disappear totally in one day, but, so far, so VERY GOOD!Thank you Alex and Xtra Dog – you have made my back and my dog very happy!" Liz Dixon, Dogs Today
Useful Dog Walking Tip
"TTouch leading techniques improve proprioception and balance and so can dramatically improve both posture and the behaviour of the dog. Teaching a dog to walk calmly on a leash using two-point contact - the handler having two distinct connections with the dog, usually with a double-ended leash - can have a miraculous and often instantaneous effect. There are many ways of using a two-point contact, so this leading technique can be easily tailored to suite the individual dog's needs." from Sarah Fisher's 2007 book Unlock your Dog's Potential, published by David and Charles.
*Tellington TTouch leading exercises enable the dog to overide old patterns of movement and behaviour without the use of fear or force. The ground work improves co-ordination, confidence, focus, self control, balance and co-operation. For more details visit www.xtradog.training.