Zima X-Back Working Harnesses
The Origins of the Traditional X-Back Sledding Harness - Pam Beckstrom explains the origin of this historic piece of dog equipment.
Most mushers, ski-joring or bike-joring enthusiasts use an X-Back harness but what they don't know is where these harnesses originated. In fact, mushers new to the sport just know they have been around for a long time.
It was over fifty years ago that Mel Fishback Riley, former Californian and at her death, a true Montanan, started designing and making the ZIMA X-Back harness for racing, training with skis or bike, lead dog training and pleasure use. She started by making five types of X-Backs and laboriously hand-stitched freight and weight-pulling harnesses. The styles for the standard webbing harnesses are much the same as what ZIMA is making today.
In the beginning, Fishback did not have access to fleece padding so she used airline blanket seconds and mattress pad scraps on all her harnesses. She insisted on acrylic woven blankets because she said they were more durable. The Iditarod Special was a completely hand-sewn harness with heavy attention to detail. Her freight and weight-pull harnesses were custom measured and made to order. Sometimes it would take many fittings to obtain what she liked to see - a great fit. For a period, she offered a siwash freight harness and that was the only harness she made that wasn't her standard x-back design. The siwash was an Alaskan design after mushers went from collared harnesses. It looked similar to an x-back but without the true x-back.
In 1983, ZIMA changed hands and became exclusively sewn by Adanac Sleds and Equipment, of Kalispell (and now Olney), Montana. Owner Jack Beckstrom had already taken over manufacturing Fishback sleds in 1976, when Mel's husband, Lee Fishback, died unexpectedly of a heart attack. Beckstrom added several of his own sled designs, and making harnesses was the next step to expanding the business that carries a complete line of sled dog products.
Today, Jack and Pam Beckstrom, owners of Adanac Sleds and Equipment, continue to make the original standard-design ZIMA X-Back harnesses as well as custom harnesses, closed-cell foam harnesses, lighter weight speed-racing harnesses, both regular and extra fleece padded harnesses and multi-sport harnesses. They also continue to make custom sleds and any equipment needed for dog mushing, scootering, Cani-X and ski-joring. Xtra Dog is thrilled to be able to distribute these incredible products in the UK. To the Beckstroms, and the Xtra Dog team it's all about exercising musher and dogs, good health, and the right equipment to be safe.
ZIMA harnesses are the most widely copied and used harness in the world. It is the standard in the industry and the basis of almost every commercially produced harness today. ZIMA - a proud name in mushing history and the original x-back harness of the world.
There have been several small innovations to the x-back over the years but one thing remains the same, they are just darn good harnesses! Thank you, Mel, for giving the mushers of yesterday and today such a versatile harness.
These harnesses have been shown and sold at a number of events and shows around the UK, including Crufts and mushers and Cani-X competitors alike are enjoying the quality of the original X-back harness. These harnesses, unlike many of their competitors, are made to last. They are known to offer a musher a good ten years of service.
Today they are offered in a choice of either fleece, or water-repelling foam. They are available in a choice of 11 sizes - your harness should fit snugly around the neck and should extend to the base of the tail. Please check our sizing chart for details of the most suitable size. If you choose the wrong size, harnesses can be exchanged, as long as they are returned in a resalable condition with labels still attached. Most dogs will fit into our standared sized harnesses but if your dog does not then we offer a custom fit service for an additional £10. Please allow two weeks for your custom-fit harness to be made. Please click here for our sizing chart. Our harnesses have been worn by winners of the Iditarod and most other major sled dog races on many occasions, and have been featured in a number of Hollywood sledding movies including Eight Below and Call of the Wild 3D starring Christopher Lloyd.
For help with the correct size X-Back for your dog, take a look at this useful video. Once you have measured your dog, feel free to contact us and we can advise you if your dog needs a standard fit or a custom-fit harness.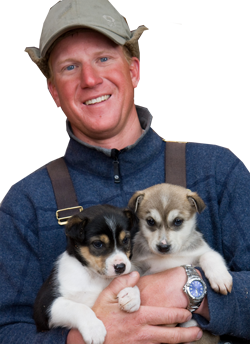 Xtra Dog also sponsored Kris Hoffman who competed in the 2011 Iditarod.
"We love the Zima x-back harness. They fit our dogs very well plus their made-to-measure service for
dogs who don't fit into a standard fit is a real plus."

"I like the fit of the Zima harness; they make enough sizes to fit all my dogs and if not they will make me a custom-fit size".
These harnesses are used by Canadian based, British musher, Louise Cooke
"We have used Zima harnesses for the past six years. They are long lasting, fast drying and, most importantly, fit well and are comfortable. We have never had any issues with harness rub at all. We highly recommend them."
We also offer a full range of sled and working dog equipment from gang lines, tow lines and harnesses to handmade sleds. Our equipment is sourced from Montana in the USA as we distribute the Adanac range made by the famous musher Jack Beckstrom. Our harnesses include the world famous Zima X-back harness invented in Montana more than 50 years ago and still made by the same company. Click on the brochure cover left to download our full catalogue. Whilst much of the equipment is not kept in stock all of the time, you will receive it generally within 2 weeks, except sleds that are hand made and require several months' notice. To order or for more information, please call +44 (0) 330-088 -DOGS (0330 088 3647) or email info@xtra.dog