Former Search and Rescue Handler, Caroline Dunn Introduces Scentwork For Dogs.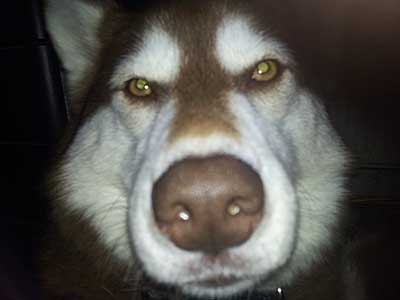 Dogs possess a fantastic nose and smells are a very important part of their life. Playing scent games can give you a fantastic insight in this side of their world. While you may associate scent work with serious activities such as Search & Rescue or working trials, which both require a very big commitment to training, getting started with scent work is actually very easy. Here is a simple and fool proof method to teach a basic game at home, without any special equipment and whichever breed your dog is. You will only need a helper to get you started.
Start in a closed room, hold your dog and ask your helper to show them a 'prize' such as a dog biscuit or a favourite toy. If needed, they may encourage the dog by shaking it in front of your dog's nose and talking to them in an exciting manner. Then place the prize just out of sight, for instance behind a box or a piece of furniture, and take a few steps back. Release your dog saying 'find it'. As they have seen where the prize was placed, they should go straight to it. When they do, praise them. Play with them for a short time if the prize was a toy. Repeat this once or twice, not necessarily with the prize in the same place.
The next step is slightly different. Your helper should still place the prize just out of sight. Then, instead of releasing your dog, either cover their eyes or turn them towards you so they can't see what is happening. Your helper should then as quietly as possible move the prize a little further. Keep it simple at first, the prize should be on the floor and within a relatively short distance. When you release your dog remember to say 'find it' – they should go straight to the place where they think the prize is. They will be surprised that it is not where they though and start searching. Unless the dog stops searching or looks too confused, don't repeat the command. I see many people who think they are encouraging their dog, while they are actually distracting them. Search and Rescue dog handlers direct their dogs during searches, but they also know when to shut up and let their dog work. Well, have you ever tried to concentrate on something while your colleague is speaking loudly on the phone or your teenager has put the volume up on their stereo? Dogs are not always a lot better at multi-tasking than men!! Oops, now I'm going to be putting men off reading the rest of this article!! But come on guys, you know you can't talk while you're shaving!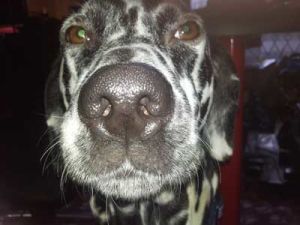 Coming back to our scent game, once you have done this a few times in different locations in the room, your dog should not need to see the helper place the prize to a 'dummy' location first. Instead, cover your dog's eyes or turn them towards you from the start, have your helper hide the prize and then send your dog with a 'Find it'. Always use the same cue when releasing the dog.
The dog will very shortly understand the game enough so that you won't need a helper anymore, simply place your dog in one room, close the door and hide the prize in the next room. Open the door saying 'Find it' and watch your dog go.
Then the limit to how far you take this game is only your imagination, you can make your dog search one room, the whole house, the garden, the dog park… If you do not always use the same prize, then make sure that the dog is shown it first and has a chance to sniff it. Otherwise, you may be surprised what your dog will find for you!
There are many more scent games you can play with your dog. Why not check if your local club offers any scent activities or join a nose work boot camp? All dogs love scent work, it is suitable for all size and breed. Learn the techniques and take your relationship with your dog to a whole new level. People who have dogs who always seem to want to do more will get the added benefit of finally finding an activity that will tire their dog out. Scent games can even help with dogs who bark or get destructive when bored.
Caroline Dunn is a former Search and Rescue Kent handler who was based and dog training instructor. She now lives in her native France with her children.