Marie Miller, author, behaviourist, Tellington TTouch Instructor and a founder member of the Association of Pet Dog Trainers (UK) looks at the natural approaches to feeding dogs and what owners need to consider when choosing what to feed.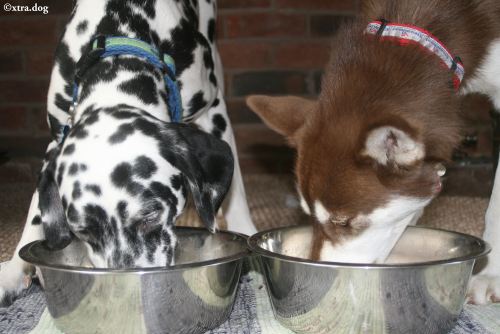 When I was a child, more years ago than I want to remember, my grandmother used to feed her dogs with the family leftovers and any extra meat, bones or offal that the butcher had going free. I'm sure there must have been tinned dog food available but, like many of her neighbours, she just couldn't afford it. Granny always had a black and white dog called Patch and with startling regularity he disappeared to stay on a farm. After a little while Patch would re-appear looking a bit different and amazingly we little ones just accepted him at face value, as if he had done a Dr. Who and re-generated! Attitudes to dogs were different then – dogs roamed, coming and going as they pleased. The 'Patches' all seemed healthy enough and I suspect they were more the victims of road traffic accidents than their natural diet.
When my husband and I had our first dog we were advised to feed it a complete food. We were told that this was the way to go for optimum growth and health. We wanted to do the best for our beautiful Golden Retriever puppy, Cindy, so followed the advice of 'the experts'. As our family of dogs grew we continued to feed complete food but my husband often commented that our dogs were never as long lived or healthy as his Dad's dogs who were fed some tinned meat and biscuit but also a lot of butcher's bones, offal and table leftovers and cooked vegetables.
A few years passed and with the arrival of the internet my research into one of our dogs' skin problems became much easier. During this process I discovered information about raw feeding and found a couple of internet forums. My goodness that was quite a shock! People were so passionate about this subject that huge, scary arguments would break out. Raw feeders accused kibble feeders of not caring about their dog's health, while kibble feeders accused raw feeders of trying to choke their dogs with bones. I managed to steer my way through the debris of raw emotion and thought it would be interesting to see if feeding a natural diet might improve Jake's skin condition.
I began to resource raw, organically fed meat, bought a blender for pulping down vegetables, bought in a stock of supplements and away I went with raw feeding. Totally removing grain from Jake's diet had an amazing effect and, although it did not completely cure his chronic skin condition, there was a huge improvement with no grain and feeding him naturally.
It is a great way to feed if you have the time to resource good quality meat and bones, freezer space to store it and can manage the raw food hygienically. Logistically we also had to find space to feed five large dogs so they did not feel the need to resource guard, especially as they all ate at different speeds. It is important to research your subject carefully and ensure that your dog is also being given the supplements that he may require. I had to be creative about getting the dogs to eat their veggies but it was a good experience when I had the time, space and resources to feed raw.
When I had to spend more time away from home travelling with my dogs it all became less manageable and practical. I could not source enough good quality raw meat and bones for five large dogs at a price I could afford. Luckily, by this time, vacuum packed natural foods had become available and also some much better quality kibble which does not contain all of those damaging preservatives and additives.
An important thing to remember though is that the most expensive is not always the best. A food sold at your vets (unless it is a prescribed veterinary diet), in the supermarket or pet store might only be there because the company is offering a good trade discount deal. Read the ingredients on the packaging to know what is really inside a bag or pack of food. Treat dogs as individuals: if a food does not suit your dog, you'll see it in his coat, general condition and in his stools. If he passes huge quantities of smelly poo it is very likely that something in his diet does not suit. It doesn't matter if this diet is perfect for your friend's dog, clearly yours needs something different.
My advice is that now we genuinely have more healthy choice, do your own research and feed the very best that you can feed taking your circumstances and finances into account. Raw feeding is brilliant if done correctly but don't beat yourself up if it is not possible for you to do it. There are also other healthy alternatives to try.