Jack Beckstrom was a well-known long distance musher in montana, today he manufactures sled dog equipment sold by Xtra Dog, Stephen Lay caught up with jack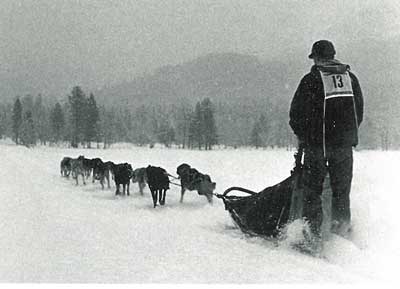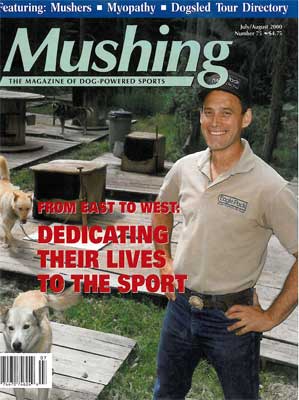 Jack Beckstrom is recognised as one of the greats of the Montana sled dog world, now retired from the sport he is still very much involved. Along with his wife Pam. he is on the board of directors of the company that organises Montana's famous Race to the Sky distance race in February. The Beckstrom are also the owners of Adananc sleds and equipment the home of the world's first X-back harness, the Zima x-back. These harnesses along with the rest of the Adanac range is available in the UK through Xtra Dog.
In July 2000 jounalist Stephen Lay caught up with Jack and wrote this interview at the height of his racing career, his photo even appeared on the cover of the magazine.
Mushers call Jack Beckstrom the pillar of Montana racing. They're right. Without Jack's dedication and his nearly three decades of effort, Montana sled dog racing might be a footnote rather than a major attraction in Big Sky Country.
Jack deserves many accolades for his accomplishments. But he is reluctant to accept them. Instead, he quickly points out the significant contributions of the many others whose work has made Montana one of the best American mushing regions outside Alaska. But those in the know tell you that Jack is the glue cementing Montana's racing community. His leadership extends to all facets of the sport.
Jack has been instrumental in establishing most of the state's sled dog races—the Root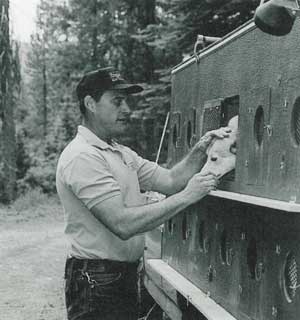 Beer Classic, Seeley Lake, Montana's premiere Race to the Sky and others which have since run their course. Not only was he "one of the founders of the Race to the Sky," said Norman Lee, Race to the Sky race coordinator and a Montana Sled Dog, Inc. board member, "this race would not be run today if it were not for his initiative in keeping it going."
Jack has repeatedly served as chairman of Montana Sled Dog, Inc., the Race to the Sky parent organisation. His contributions are significant. "He led the board of directors that brought the race back from near bankruptcy to being the longest continuous-format race in the Lower 48," said Lee.
To long-time board member Pam Otto (now Jack's wife), Beckstrom's leadership style provides the basis for his success. "He never makes a rash decision and always allows both sides to have their say. Usually there must be compromise from both sides, but he is able to talk to both and allow each to leave with dignity. We have had some hard decisions to make, but he handles them with grace and integrity."
Contributions to the sport itself impact his own racing. Beckstrom usually races, and consistently earns a respectable finish, but he doesn't dominate the winner's circle. If he added a major race to his circuit, it would probably be the Yukon Quest International Sled Dog Race. The wilderness of the race and the distances between the checkpoints appeal to him.
Although well-known in Montana's mushing circles, Jack is a relative newcomer to the state. He grew up outside of Chicago and moved west to attend the University of Idaho. He briefly returned to Illinois to marry Laurie, his high school sweetheart. Along with the bride came his introduction to sled dogs. Laurie owned a Siberian husky. "If you have a husky, you should run it," Jack said. The young couple started racing in Idaho. Their three-dog team expanded to a half dozen dogs by the end of the first winter and a total of 10 by the end of the year. The kennel grew until it topped 70.
In the mid-1970s the Beckstroms moved to Montana for the better snow conditions and to be near their friends and mushing mentors Lee and Mel Fishback. The Fishbacks, former Californians, owned a small sled manufacturing and musher supply company.
Shortly after the Beckstroms' arrival in Montana, Lee Fishback died of a heart attack while running his dogs. Within a short time, Jack started making sleds to serve Fishback's customers. Mel continued making the Zima brand of harnesses until 1983 when the Beckstroms acquired the brand, and Laurie took over sewing, which she continues, although they are no longer married.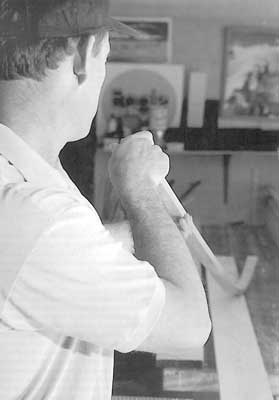 Jack's company, Adanac Sleds and Equipment, has since grown, and mushers as far away as Europe rely on it for their racing equipment and supplies. They praise Jack as a great guy to do business with. It's another accolade he has earned for his diligence and basic sense of fair play.
Beckstrom offers a complete line of equipment as well as sleds. The company doesn't attempt to compete with the ultra high tech and higher priced equipment that other companies have selected for their market niche. According to Lee, Jack's sleds have a reputation for standing up to hard use.
"He is very patient with customers," Otto said. "Jack strives to make sure every customer is happy. Sometimes customers really don't know what they want, or they want something that may not be appropriate for their needs, and Jack tries to turn them around so they get what will be useful for them."
The entire business is built on integrity. Unlike the American business trend today of going to the lowest bidder and constantly pressuring suppliers for ever-lower prices, Jack has worked with the same subcontractors for years because they produce the product quality he demands for his customers.
Along with "hardware" necessary for mushing, Jack gives his customers the "software" he has learned in his nearly 30 years of working with dogs. He is always "talking to mushers about training, nutrition, and answering any other questions they seem to have," Otto said.
When mushers ask about the dogs, Beckstrom becomes even more enthusiastic. Of all the praise he receives, there's one Jack treasures above all others: Tell him he is good to his dogs, and he'll simultaneously beam with well-earned pride and Jack personally builds the 40 to 50 sleds his company, sells each year.blush like a teenager after his first kiss. To Beckstrom, mushing is all about his dogs and his relationship with them.
He loves his team, he enjoys his dogs' energy, and he glories in their accomplishments. He picks his teams with the precision of an NFL coach. "Dogs have to be selected for their athletic ability. If you don't do that, you're limited. If you have the caliber of dog that you need—dogs with good athletic ability you can train them better.
You can feed them better. You can care for them better. You can do lots of other things, but if you have dogs who aren't gifted athletically, you're only going to go so far," Beckstrom said.
Along with the dog's ability, Beckstrom looks at their personality.
"You take that natural desire to pull, and you funnel it, work with it and reward it," he said. "They have the desire to get together with their buddies and go as fast as they can and have as much fun doing it as they possibly can.
"Training is channeling all their natural energy; dogs are so willing to please. When you communicate with them, they will get a response from you that's fun and exciting and pleasurable to them for doing what they love to do under your direction. That's the key."
Once he gets the dogs capable of doing the job, Beckstrom then concentrates on training. He feeds them the best diet possible to build their strength and stamina. And he constantly praises them. In return they give him their all. As he walks through the kennel, the dogs vie for his attention like a class of kindergartners scrambling for a candy jar. Each dog gets a pet and a word of encouragement, and they thrive on it.
"Just look at his kennel and how spotless it is, how happy his dogs are, and how happy he is. It is all a reflection of his way of life; it's not just a sport to him," Otto said.
Today he has a relatively small kennel of about 20 dogs, which he keeps on raised wooden platforms. The platforms dry quickly, and the dogs are healthier when off the wet ground.
"Just look at his kennel and how spotless it is, how happy his dogs are, and how happy he is. It is all a reflection of his way of life; it's not just a sport to him"
"If there is anything that creates a feeling of pride in me, it is when somebody comes along who has taken my advice in terms of dog care. Whether it is training, nutrition, vet care .... The dogs are who benefit, and it does feel good," Beckstrom said. "One of the real rewards behind pushing so hard for Rendezvous every year is that I know that for all those people who attend -typically almost a hundred mushers show up - they are all getting really valuable information, and most will implement some changes in order to improve in their operation."
The Rendezvous symposium, sponsored by Montana Sled Dog, Inc.is a proactive approach to ensure good treatment of all animals. In early September for the last nine years, mushers and would-be mushers have met for a weekend of educational programs. It lets "some of the best mushers in the world talk about how they train their dogs, answer questions, give sample training schedules, talk about equipment and talk about mistakes," Beckstrom said. Doug Swingley and Rick Swenson gave the keynote addresses in 1999.
"If anything sets Montana apart, I would say it's probably the hospitality and the openness of the community to mushing," Beckstrom said. "It's one of the things people coming to the area always remark on. Our host family programs and the efforts we make to get the mushers into the schools for pre- and post-race appearances impress visitors."
Musher appearances and education are part of the strategy to combat what Beckstrom considers misguided animal rights activists. He strongly advocates a proactive approach to counter anti-mushing propaganda. "We have to grab the high moral ground first, as opposed to talking from a defensive position. We have to be educating, educating, educating," he said.
Beckstrom feels many supporters of radical animal rights organizations have no understanding of the dogs' natural instincts for running. Supporters would change their minds if they saw how much the dogs genuinely enjoy training and racing.
While he has limited patience with the activists, he has no tolerance for the few mushers who aren't taking good care of their dogs. The few bad apples give all a bad name.
"We will go to mushers and talk to them about how they are kenneling their dogs or feeding their dogs," Beckstrom said. "Some people ... we've had to get in their face and tell them, 'You are not welcome at our races if you act that ways'"
It usually works. People who hear that message change their ways or quit racing. It is one of the few times that Jack Beckstrom doesn't try to reach compromise. To him this is not a place for compromise—there's only the right way to do things. This doesn't surprise his friends and fellow mushers.
"He's always looking out for the dogs' welfare," Lee said. And he always will.
Stephen Lay is a freelance writer, editor and photographer who enjoys extreme climates. After living in Alaska for 25 years, he currently divides his time between southern Africa, Australia, the deserts of the American Southwest and the Arctic.
Article reproduced with kind permission from Mushing magazine, for more information or to subscribe, visit http://www.mushing.com/
Sled Dog Harnesses and Lines