Gun Dog Training With Shelley Heading from the Association of Pet Dog Trainers
A lot of people with pet dogs turn down gundog training as they say ' well I don't go shooting' or ' I don't believe in blood sports' or 'my dog is not a gundog breed', however gundog training has brilliant core exercises designed to produce a calm, steady dog that any pet dog owner would benefit from and be proud of. Shelley Heading looks at what is involved.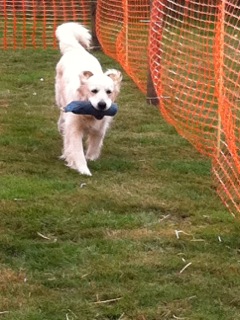 When I got my first gundog, a Weimaraner, called Dooley back in 1994 I went to an 'old style trainer' who (bear in mind I knew nothing about training or behaviour) got me to hit my dog with the metal clip of the lead (if he walked ahead off lead), threw buckets of water over him if he whimpered when he got excited on seeing birds or game and having put a choke chain on his neck (the wrong way round) to show me how it was done, tore his ear whilst checking him making it bleed profusely. I lasted 2 and a bit sessions, walking away part way during the third.
My dog decided the car was for going somewhere horrid and the car became an issue. My relationship with Dooley suffered and it took a several months to build his trust back in me. From then on my dad and I just 'played at gundog training' making it fun' for Dooley and although we did really know what we were doing, he would happily retrieve a dummy and do directional retrieves etc.
Gundogs need to be focused, attentive, do nothing when asked, but when needed can hunt, flush and retrieve game in a controlled manor. Even asking a pet dog to do nothing in a park on a lead whilst you have a chat or a picnic would be a really useful exercise to teach!
All gundogs need to be able to find a bird or game that has been shot and retrieve it - in pet dog terms - this could be a hidden ball or other favorite toy.
Gundogs need to listen and take instruction from you to help them find game ie left, right, back etc. Couple this with using their brain and their nose you have a very busy dog which will equal a happy dog.
Mental and physical activity is a fabulous way to entertain and tire out busy dogs. Dogs that are kept occupied mentally and exercised and given a job that most dogs (regardless of breed) are inbuilt to do (hunt) are less likely to develop behavioural problems or destroy household items out of boredom. Stimulating the brain of a hard hunting busy dog (pet or working) in short bursts is far better than long runs and self employed behaviour (behaviour of the dogs choosing). You will never tire a dog completely with exercise alone.
Here at The Dog House we searched high and low for a gundog trainer that had the same ethos as us - we wanted a trainer who wanted to promote training as a team rather than as a 'dog do as I say' and a trainer that promotes 'kind, fair and effective methods'. Using kind, positive methods develops a strong bond between dog and owner which not only makes for a well behaved and trained dog but also makes a happy dog and owner - win win!
Then whilst watching a gundog demonstration at The East of England show a few years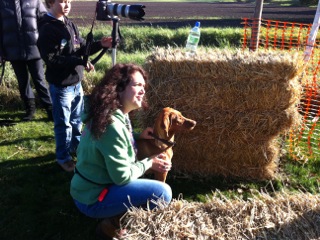 ago I saw Natalie Cannon (right) and she had a great rapport with her dogs, they eagerly looked at her awaiting a job to do, Natalie Cannonwanting to go and do something fun and exciting and enjoyable that they had learnt to do, and not only that but when they had done the job, they got paid for it with rewards! Brilliant!!!!
So The Dog House teamed up with Natalie Cannon a couple of years ago and our Gundog Training has proved popular.
Natalie never sets dogs or owners up to fail and always ensure that everyone works to levels suitable to them.
Basic Gundog Training includes Walking to heel on and off the lead, Sit and Stay Recall Working to the whistle Retrieve Send a away Directional Sendaway Sit steady whilst object launced - retrieve Retrieve including directional work,left,right and back Memory retrieve Blind retrieve Hunting and holding an area Scurrys Blind Scurrys and for those that want to progress onto actual working stuff you will then move onto cold game.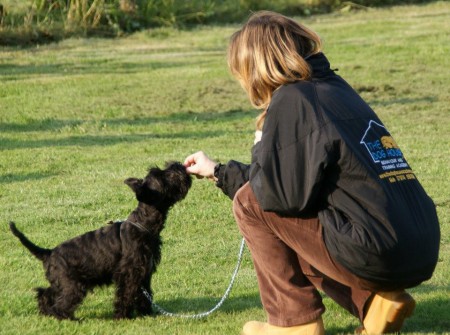 The Dog House Academy is owned and run by Shelley Heading and was established in 1995. Shelley decided to study dog training and behaviour after becoming disheartened at classes she attended with her puppy Weimaraner, Dooley. Classes were either usung harsh punitive methods resulting in the breakdown of trust between her and her puppy, or classes were too large and overcrowded with no individual attention.It was at this point Shelley was inspired to study all about our canine friends and was lucky enough to undertake one of the late John Fisher's courses – a pioneer in positive reinforcement training - THE CANINE HUMAN INTERFACE and passed with a distinction.
Her Other qualifications include:
• Advanced management of cats and dogs,
• Advanced nutrition of cats and dogs
• Diploma in Companion Animal Care
• APDT Instructor Course
• Basic Grooming
Shelley is a member of The Association of Pet Dog Trainers and holds a Diploma in Companion Animal Behaviour Therapy.
Suggested Products
We have selected some products that are great for gun dogs and gun dog training.