High Visibility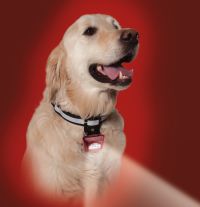 Xtra Dog offers some great products for night walks or night exercise with your dog. Unfortunately, we are currently not able to source neon fleece so cannot make our hi-viz harnesses, but we are able to add hi-vizibility tape onto our existing range of harnesses. Just order hi-viz tape at the time of ordering a new harness, or for a harness you already have and we will do the rest.
Xtra Dog does, however, offer other hi-viz products; the award-winning Spiffy Dog Collar used and endorsed by National Search and Rescue Kent, is the perfect collar for night walks. Made from the same porous patented Aerospacer that other Spiffy Dog collars are made from, it is orange with reflective tape to help you see your dog in the dark.
"I am impressed at the construction of the collar and the design of the clip. Any weight on the clip causes the barbs inside it to expand making it more secure rather than likely to fail. The Air Collar dries quickly compared to other rope and webbing collars I have used on my search and rescue dogs and combined with the hi-vis reflective covering it makes the perfect choice for her." James Dunn, chairman Kent Search and Rescue Dog Society
Checkout the Xtra Dog Hi-Viz harness with neon orange fleece and hi-vizability tape sewn on. Click here to view the Xtra Dog Walking Harness.

The Award-winning PupLight is proving as popular with working dog people as it is with pet owners. This head-torch for dogs gives a 30ft beam which can be seen from up to a mile away. PupLights are also used by the American Secret Service and sled dog mushers. It is a light that comes with its own hi-visibility collar, but can be attached to your dog's regular collar and is powered by 3 AAA batteries. It is water-resistant and offered in a choice of 4 colours - red, blue, black or silver.
We also offer a mini collar light too. That gives either a constant light or a flashing light